Logistically Better
You want your important correspondence, paperwork, and packages to arrive safe, on time, and shipped at an affordable cost.
So do we.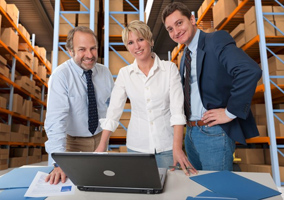 For more than 50 years, Mail Delivery and Courier, Inc. has served the logistics needs of customers ranging from doctors' offices, laboratories, and hospitals to banks, law firms, and other businesses, large and small, throughout Connecticut and Massachusetts.
We provide the kind of expert and cost-effective distribution, fulfillment, and shipping services our customers need to keep their business running smoothly — something we've been doing longer and better than most other pack-and-ship companies in the region.
Based in Shelton, Connecticut, Mail Delivery and Courier, Inc. is family owned and operated. As a third-party logistics company, we have earned a reputation for dependability and service among businesses in MA and CT. We are experts in simplifying the shipping process and providing cost-saving truckload solutions tailored to the needs of your workplace.
Over the years we have helped companies of all sizes reduce their freight costs for both full truckload and less-than-truckload (LTL) shipping by combining the shipping volumes of thousands of customers. This enables us to realize an annual freight spend that puts us in a strong position to negotiate for discounts among the carriers with whom we partner.
Regardless of the scale and complexity of your logistics challenges, Mail Delivery and Courier, Inc. can get your papers, packages, or merchandise from here to there on time and on budget.
At MDCS, we deliver more than things: We deliver solutions.
Need warehousing services? We do that too, along with providing licensed courier and medical courier services, mail and other delivery services, local same-day delivery for customers in Connecticut, and courier services to Boston.
Contact us today to find out how our Connecticut courier services can help your business or organization run more smoothly.